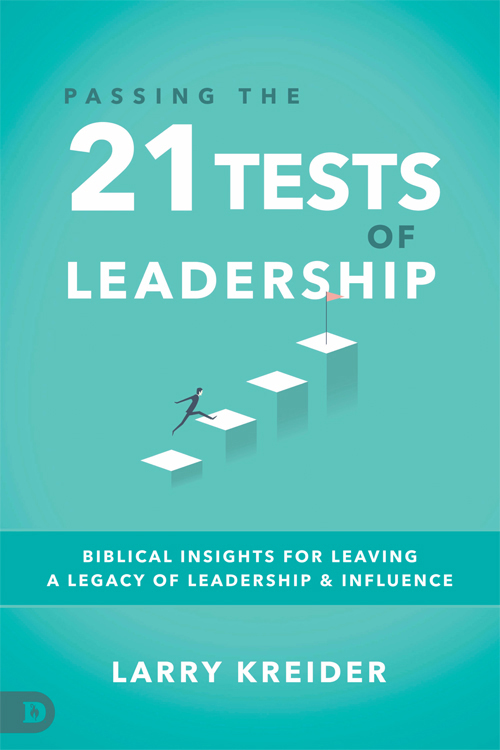 A seminar designed to help you be the leader you were meant to be!
Author and leadership coach Larry Kreider published his book Passing the 21 Tests of Leadership. This is a valuable and inspiring work based on the leadership tests he has faced over the past 40 years, in both the business world and in the church. Now you can hear him first-hand in this new seminar with the same title.
Larry states, "There is a great need for leaders today who have been willing to be examined by the tests of life so they will endure during difficult times…. We don't need more positions filled. We need leaders in all walks of life who will lead in humility and strength. This type of leader can only be developed by embracing, enduring, and passing the tests they will face."
This seminar is a great resource for leaders in the family and business and those serving on leadership teams of churches, small groups, community organizations, and ministries.
Seminar focus
You will learn to know what the tests of effective leadership look like and how to prepare for them.
Practical biblical wisdom will be given on how we can pass each of the tests for effective leadership.
Your leadership skills will be sharpened as God continues to prepare you for present and future leadership!
Topics to choose from
Why God uses tests to train us to become effective leaders
The Calling Test
The Humility Test
The Teamwork Test
The Releasing Test
The Priorities Test
The Transition Test
The Criticism Test
The Dependency Test
The Conflict Test
The Vision Test
The Love Test
The Integrity Test
The Security Test
The Grace Test
The Expectations Test
The Finance Test
The Comparison Test
The Perseverance Test
The Success Test
The Timing Test
The Kingdom Test
Where do I go from here?
Discerning the place for me to start to see change.
Seminar manuals
Seminar manuals designed for easy note-taking are available.
For more information contact the DOVE office or call 717-627-1996.