Do you struggle to spend time daily in prayer?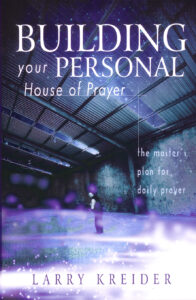 In this seminar, we walk through twelve rooms of prayer and find how prayer is relational rather than a religious activity.
The disciples knew Jesus prayed to His Father daily with a distinct intimacy, and they wanted it too. "Lord, teach us to pray…" In response, Jesus gave them a master plan for daily prayer, the Lord's Prayer, which is not just a prayer to say, but a way to pray.
This seminar develops a unique "house plan," with each room corresponding to a part of the Lord's Prayer, to help your prayer life to go from duty to joy. You may even experience an "extreme makeover" in the Spirit! The seminar is based on the book Building Your Personal House of Prayer.
Seminar focus
Use the Lord's Prayer as a model to express the manner in which you are to pray as you walk through 12 rooms
Receive help to turn your personal prayer life from duty to joy
Learn from revivals in church history
Develop a prayer strategy for your daily personal time with God
Expect an extreme makeover in your prayer life!
Topics to choose from
Lord, Teach Us to Pray
Entering Into Our House of Prayer
The Family Room
The Adoration Room
The Declaration Room
The Surrender Room
The Provision Room
The Forgiveness Room
The Freedom Room
The Protection Room
The Warfare Room
The Kingdom Room
The Power Room
The Exaltation Room
Building Your Personal House of Prayer
Revive Us Again!
Let's Get Started
Seminar manuals
Seminar manuals designed for easy note-taking are available.
For more details contact the DOVE office or call 717.627.1996.