House to House
How God called a small fellowship to become a house to house movement. DOVE International has grown into a family of small group-based churches and house churches networking throughout the world. More here.
The Cry for Spiritual Mothers and Fathers
Returning to the biblical truth of spiritual parenting so believers are not left fatherless and disconnected. How loving, seasoned spiritual fathers and mothers help spiritual children reach their potential. by Larry Kreider. More here.
Your Personal House of Prayer
I have always believed in prayer, but for much of my life I found prayer to be hard work. During the past few years the Lord has done a deep work in my prayer life. He gave me a fresh revelation of prayer, modeled after the pattern of Jesus when his disciples asked him to teach them to pray. The tools in this book can help believers learn to pray effectively. —Author Larry Kreider Audio available. More here
Biblical Role of Elders for Today's Church
New Testament leadership principles for equipping elders. How elders can be developed, what their qualifications and responsibilities are, how to resolve conflicts on eldership teams, and more. by Larry Kreider, Ron Myer, Steve Prokopchak, and Brian Sauder. More here.
House Church Networks
Discover how house church networks offer community and simplicity, especially as they fit the heart, call and passion of the younger generations. by Larry Kreider. More here.
Cell Groups and House Churches
Are small groups new? This book provides a historical backdrop to much of what is happening in cell groups and house churches today. by Peter Bunton. More here.
Passing the 21 Tests of Leadership
As leaders we all face tests. The greater our call to leadership, the greater the tests will be. Problems provide the opportunity for us to grow and become more mature as leaders. by Larry Kreider. More here.
Fivefold Ministry
Discover how the fivefold ministry was created to work within the local church, the training ground for ministry. These ministers–apostles, prophets, evangelists, pastors and teachers–are coaches who equip and train God's people for works of service. by Ron Myer. More here.
Biblical Foundation Series
This series by Larry Kreider covers basic Christian doctrine. Practical illustrations accompany the easy-to-understand format. Use for small group teachings, a mentoring relationship or daily devotional. 12 titles in this series. More here.
DOVE Global Leadership & Ministry School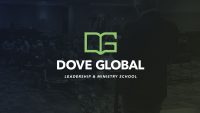 This school has been training leaders for 20 years. Hundreds of graduates are now successfully engaged in the church and marketplace. This school provides practical biblical training as well as Holy Spirit empowered impartation and activation. Comprised of nine weekend intensives.
Experience the school online
Dynamic online video training in ministry and leadership

216 Classes taught by a broad spectrum of seasoned leaders

Training for leaders in the church and marketplace

Learn at your own pace…20 minutes per class

Take classes on your phone or computer from anywhere globally
Church Planting Boot Camp
One weekend each year of the DOVE Leadership and Ministry School focuses on church planting.
Additional Resources
Many more church planting tools and resources can be found on the DOVE USA website
Discovery Bible Studies
Discovery Bible Studies Learn how to lead a Bible study, which takes people from not knowing G
od to falling in love with Jesus