Is counseling for the professional only?
What do you do if a member of your home group asks for advice?
Where do you begin?
As Christian leaders, we are called upon to counsel. For too long, we have been reminded of our limitations. But, what about the potential? II Corinthians 3:5,6 tells us, "Not that we are competent in ourselves to claim anything for ourselves, but our competence comes from God. He has made us competent as ministers…"
Finally, a one-day seminar to help you help others. This day of training provides answers to the many questions surrounding counseling today. It is a training geared specifically for all small group leaders, assistant and potential leaders.
Comprehensive Manual Included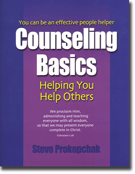 Each registrant receives a 124 page training manual packed with helpful information going far beyond what is covered in the seminar. You'll want to keep this valuable manual as a future reference source. This manual is also available to purchase from House to House Publications.
Schedule
Friday
6:00PM Registration begins
7:00 Welcome
7:15 Session 1
Is Counseling Biblical?
The Core of Counseling
Uncovering the Roots
Scriptural Responses to Root Problems
9:30 Close
Saturday
8:30AM Coffee
8:45 Session 2
The Counseling Process
The Process of Change
Depression
Suicide
10:30 Break
10:45 Session 3
Codependency and Emotional Dependency
Stress
Anger
Marriage
12:00PM Lunch on your own
1:15 Session 4
Divorce and Separation
Visiting the Hospitalized
Healing Emotional Wounds
Finances
Growing as a Counselor
Forgiveness: A Final Word
3:30 Close