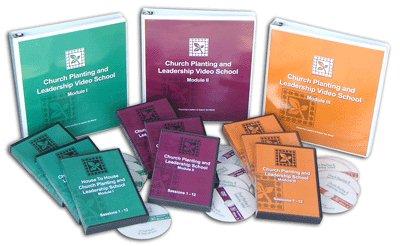 The best of DOVE's nine month in-house training school is packaged into a video School. Learn how to make disciples through spiritual parenting. Find practical tools and training for spiritual growth, leadership development and church planting. Discover dynamic leadership and church planting principles in your own home or as you travel. These training disks contain a wealth of knowledge from experienced leaders from DOVE and other ministries. The school is divided into three self-contained modules each consisting of 45 video classes.
Module I: Core Leadership Training
Designed to train leaders for kingdom expansion through dynamic leadership and ministry. You will learn the biblical basis for relational ministry, spiritual parenting and church planting. See objectives and class list here.
Module II: New Testament Leadership and Five Fold Ministry
Emphasizes New Testament leadership for the cell-based church. This module covers the basic, biblical values DOVE International has learned and developed over 20 years of planting small groups and churches. See objectives and class list here.
Module III: Practical Ministry Training
Emphasizes training for practical ministry. It will be especially helpful for those who have had no formal training for ministry and want to see the Kingdom of God expand into all areas of society. See objectives and class list here.
DVD School
Purchase the modules and set up your own in-house school at your church or home. Learn these dynamic church building principles by using these videos and an easy-to-follow class notebook.  Homework and tests are reviewed by your local school leadership. More here