We cannot fulfill the Great Commission without planting churches. We need new churches!
By Larry Kreider
I have heard it said hundreds of times: "We do not need more churches in our community. We have enough churches already."
I disagree. We cannot fulfill the Great Commission without planting churches. We need new churches! Jesus, when He ascended into heaven two thousand years ago, left a spiritual family of 120 believers in an upper room. That number multiplied into millions of believers who planted churches throughout the world. By planting new churches, we continue what Jesus started.
Here is another reason why we need new churches: A research study by Fuller Theological Seminary found that if a church is ten or more years old, only one person will be led to Christ for every eighty-five people in the congregation. If the church is between four and seven years old, one person is led to Christ for every seven members, but if a church is less than three years old, one person is led to Christ for every three members. That is why I agree with Dr. C. Peter Wagner, who often said that "the single most effective way to evangelize is to plant new churches."1
Serving Together
Here is yet another reason. The younger generations are leaving established churches by the hundreds. Many of them say they love Jesus but do not sense a connection with the local church. We cannot just write them off as being rebellious. Even though that might be the case at times, we cannot simply sit back and watch them leave. We must encourage each generation to start churches that will connect with their own generation. I am not saying that many of our young people will not continue to serve in our present local churches. They will and they should. But Jesus made it clear that new wine needs new wineskins (Matthew 9:17). When new wineskins are provided, both are preserved. The old and the new can serve right alongside one another!
Tim Keller, who pastors Redeemer Presbyterian Church in New York, writes and teaches extensively on the need for church planting. In his article, "Why Plant Churches," he writes, "The vigorous, continual planting of new congregations is the single most crucial strategy for 1) the numerical growth of the Body of Christ in any city, and 2) the continual corporate renewal and revival of the existing churches in a city. Nothing else—not crusades, outreach programs, para-church ministries, growing mega-churches, congregational consulting, nor church renewal processes—will have the consistent impact of dynamic, extensive church planting."
He also explains that new churches best reach new generations, new residents and new people groups. Younger adults have always been disproportionately found in newer congregations.
New residents are almost always reached better by new congregations. In older congregations, it may require tenure of ten years before you are allowed into places of leadership and influence, but in a new church, new residents tend to have equal power with long-time area residents.
Keller also suggests new socio-cultural groups in a community are always reached better by new congregations. Brand new immigrant groups nearly always can only be reached by churches ministering in their own language. If we wait until a new group is assimilated into American culture enough to come to our church, we will wait for years without reaching them.
Every generation needs new churches (new wineskins) to connect with the next generations. That is why DOVE International began in 1980. At that time, my wife, LaVerne, and I spent hours each day loving kids who hung out at our house. After a few years of trying to fit these young believers into the churches in our community and not being successful, the Lord opened our hearts to the possibility of starting something new. In 1980, we started a Sunday morning service with twenty-five people in a home in our community. Ten years later, the church had grown to include 2,300 people. DOVE International is now comprised of over 1000 churches in twenty-six nations.
People everywhere and of every age need Jesus. Age isn't the criterion. People of all ages may have difficulty relating to an established church for various reasons. Some people have had hurtful experiences which hinder their ability to trust church leaders. Some do not like structured services. Some people find it overwhelming to attend gatherings among a group of strangers. Many people find it difficult to build relationships with others within large congregations. Some people are simply unmotivated to get up Sunday mornings and attend church services. Whatever the reason, a large segment of our population is unchurched.
New Communities of Faith
I believe that starting new communities of faith is one of our Lord's top priorities. He said, "I will build my church and the gates of hell will not prevail against it" (Matthew 16:18).
I am convinced that hundreds of believers will soon take a step of faith and plant new wineskins (new churches) to take care of the coming harvest. Other groups also have been answering God's call for church planting. I was recently in Stuttgart, Germany with a few hundred young German leaders from Hope International Ministries. A few years earlier, they had made a commitment to plant a new church within one-hour driving distance from every person living in the nation of Germany. Now—220 churches later—this vision has become a reality. Most of the 220 German churches are small vibrant churches meeting in homes with young leaders committed to reproducing more new churches. Most of the believers in these churches have come to faith in Christ within the past few years. These churches continue Jesus' vision to make disciples and fulfill his Great Commission (Matthew 28:19-21).
I am writing this chapter 35,000 feet above sea level on United Flight 492 returning to the USA from Nairobi, Kenya. While there, I was inspired by my friends from Kenya, Uganda, Rwanda, Democratic Republic of the Congo and India who gathered for a DOVE leadership conference in Kitale, Kenya. I witnessed dozens of church leaders and future leaders make a commitment to plant at least one new church within the next year.
Why have they made this commitment? What does it really mean? Is it necessary? How will they fulfill their promise? Are they qualified? What do they need to do? How will these churches be different from established churches? What if they fail?
These are valid questions and deserve inspection. Many people who have planted churches in the DOVE International family have grappled with the same questions. They faced difficulties and made some mistakes, but they persevered because they caught the vision of the Lord's heart for His Great Commission and Kingdom expansion. Some of the church plants are cell-based community churches, some are house churches or micro-churches, and others are large churches, but each has a story.
I believe that listening to the testimonies of church planters is the best way for most questions to be answered. Their stories show how God uses ordinary people to fulfill His Great Commission in extraordinary ways. We have included many of these in this Church Planting article section. I encourage you to listen to the Holy Spirit as you read about God working through ordinary people like you and me.
1. Dr. C. Peter Wagner, Strategies for Church Growth (CA: Regal, 1987), 168.
FREE church planting resources here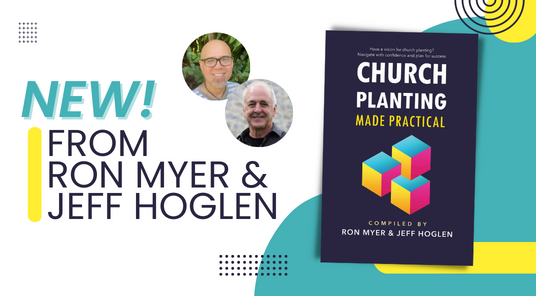 ---
About Larry Kreider
Larry has spent the past four decades training leaders to make disciples with the small group concept. Larry serves as the international director of DOVE International, a worldwide network of over 1,000 churches in 26 nations. Larry has written more than 40 books and travels extensively teaching and imparting practical discipleship to leaders globally. Read about Larry or catch up on Larry's blog.