Jesus gave the Great Commission in five different forms
By Peter Bunton
In the church we often talk about the Great Commission. In doing so, we usually think of some of the final words of Jesus Christ to His disciples found in Matthew 28:18–20: "All authority in heaven and on earth has been given to me. Therefore go and make disciples of all nations, baptizing them in the name of the Father and of the Son and of the Holy Spirit, and teaching them to obey everything I have commanded you. And surely I am with you always, to the very end of the age."
The reality is, however, that there are five great commission statements from Jesus. Put together, we understand the missionary task today.
The Need for Disciples
In the commission above, the emphasis is that of making disciples. In fact, in the original Greek, the only verb in the imperative (command form) is the verb "make disciples." Thus, in this verse, Jesus focuses on the end goal, and reassures us He will be present as we make the nations His disciples.
Preach, Preach, Preach
In the Gospel of Mark (Mark 16:15), we are told, "Go into all the world and preach the gospel to all creation." Here, Jesus seems to emphasize not the goal of making disciples, but the means of achieving it, which is the preaching and communication of the gospel. We are therefore commissioned to communicate, which today can take many forms, including music, drama, art, and social media.
It's All about Liberation
A third commission to missions can be found in Luke 24:46–48. Particularly in verse 47, Jesus states that "repentance for the forgiveness of sins will be preached in His name to all nations." While Mark focuses on the means of preaching, in Luke, Jesus draws our attention to the content of our preaching, which is to be calling people to turn from sin and receive forgiveness. The word "forgiveness" literally means "untying" and "letting go." We are, therefore, commissioned to bring a message of liberation to all people.
Do It the Jesus Way
A fourth commission is found in John 20:21–22. "Again Jesus said: 'Peace be with you! As the Father has sent me, I am sending you.' And with that he breathed on them and said, 'Receive the Holy Spirit. If you forgive anyone his sins, they are forgiven. If you do not forgive them, they are not forgiven.'" Here we are commissioned not to engage in missions in any fashion, but only in the manner in which the Father sent His Son. This speaks to engaging in missions in the very spirit and humility of Christ. In this passage the emphasis seems to be on the manner in which we engage in God's commission.
Holy Spirit Power
Lastly, in Acts 1:8, Jesus says, "But you will receive power when the Holy Spirit comes on you; and you will be my witnesses in Jerusalem, and in all Judea and Samaria, and to the ends of the earth." Here we are commissioned to rely on the power and resources of the Holy Spirit and to allow the gifts of the Holy Spirit, such as healing and words of knowledge, to flow through us as we share the love of Christ. Our commission, therefore, is not just to rely on words, but demonstrations of God's power.
Putting It All Together
So, we are commissioned multiple times! We are given a goal (making disciples); we are sent to preach and communicate; we are sent to emphasize a turning to Christ to receive freedom; we are encouraged to serve in humility in the very spirit of Christ; and we are given the power and resources to do the commission God gives us. With all these "commissions" flowing together, the church makes a huge difference in transforming the world.
This article is adapted from the book Evolving Missions: 24 Voices Reflecting on Missions Today. This book is a collection of 31 articles which show the diversity of modern missions and ways in which we can all be involved today. For more information or to purchase a copy, click here. For more information about missions, go to dovemission.org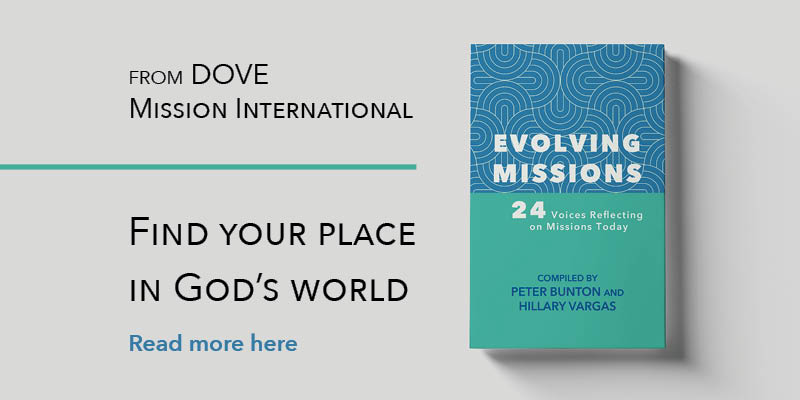 ---
About Peter Bunton
Peter, originally from Great Britain, lives in Pennsylvania. He serves on the DOVE International Apostolic Council and is a member of the DOVE Europe Apostolic Team. His main responsibility is the director of DOVE Mission International, where he helps develop and send missionaries from the USA. He has published works in the area of church history and cell groups and has received a PhD in missiology from the University of Manchester, England, for his research in founder succession in international Christian movements and organizations. Read more about Peter.