Along with evangelism and discipleship, prayer is an essential element of the mandate God has given
By Lynn Ironside
"So often our prayers and other initiatives taken in blind obedience to the Spirit seem as pointless as shooting paper aeroplanes into the sky—but the eyes of faith know that it is no coincidence that that will be the place where the clouds clear and heaven penetrates earth's concerns."1
"Too often we treat prayer as the preparation for the work of the church. Do you not see? Prayer IS the work of the church."2 —Oswald Chambers
Along with evangelism and discipleship, prayer is an essential element of the mandate God has given the DOVE network of churches. This threefold mandate is to exalt Christ as Lord, obey His Word, and encourage and equip each believer for the work of ministry. DOVE's vision, mission, and values offer numerous references to the necessity of prayer. For example, our US-based missions arm, DOVE Mission International, "exists to help the DOVE churches across the nations engage in holistic and cross-cultural mission, send missionaries and missionary teams, and support the DOVE family and the Body of Christ with the final goal of reaching the unreached." Prayer has always been an integral and foundational component of this mission, for we know that prayer brings blessing to the church as the Lord increases our love to overflowing (1 Thessalonians 3:11-13).
Prayer and Revival
In his book The Power of Prayer and the Prayer of Power, R.A. Torrey writes of a great revival in 1857. He tells of a man called Landfear, a "humble city missionary in the city of New York" who felt a heavy-hearted burden for the declining state of the church. With just a few others, Landfear set about to pray for revival in the city. Initially, his prayer meetings were poorly attended. As others began to hear of this man's passionate prayers, larger crowds began to gather. Torrey describes this revival as "a fire [that] spread from New York to Philadelphia and other cities." This revival eventually swept across the entire USA. A key element in this historical moment was that the focus was not on preaching but on praying. Torrey writes, "The whole emphasis was on prayer, and our whole nation was shaken by the power of God as it had never been shaken before, and perhaps has never been shaken since" (p. 44).
Effective Missions Depends on Prayer
Torrey's stories provide detailed historical accounts of the importance God places on the commitment to prayer. Back in 1924 Torrey declared, "The greatest need of foreign missions today is prayer." Is prayer still a vital church strategy in the 21st century? The answer is a definite "yes!"
Intercessory Mission Teams
DOVE puts enough value on this special kind of ministry to send teams of intercessors to pray alongside and for the ministries of DOVE churches, missionaries, and their communities throughout the nations.
Whether heading to a destination in Africa, North America, Europe, Asia, or South America, those willing to join a team of intercessors must come prepared to stand in the presence of God to pray for others. If we doubt the importance of this action, we need only think of Jesus, the greatest of intercessors: "Christ Jesus is He who died, yes, rather who was raised, who is at the right hand of God, who also intercedes for us" (Romans 8:34b, NASB).
The required "tools" for participating on a prayer team can be carried in one hand—namely, a Bible and perhaps a notebook for recording godly impressions and prayer points. The time commitment required for a prayer team can be short, perhaps only two or three days, and can be included amongst other mission activities. The incoming team of intercessors is usually invited to partner with local individuals who have a clear sense of their prayer needs. Prayerfully listening to the stories that are shared will reveal great fodder for intercession. It is also helpful to have some background knowledge of the place(s) that will be prayed for. Although the team may have a specific project or ministry they have come to pray for, such as a new church plant for example, acknowledging and honoring those who quietly fight Christ's battles day after day in these distant communities offers a special affirmation. Opportunities to pray and fellowship together can bring great encouragement. These powerful prayers have an impact that lasts long after the team has returned home. The promise of the answer to prayer in the name of Christ is very definite. "Truly, truly, I say to you, if you ask the Father for anything in My name, He will give it to you. Until now you have asked for nothing in My name; ask and you will receive, so that your joy may be made full" (John 16:23-24, NASB).
Prayer Opens Our Heart to the Nations
In my own experiences with intercession, I have learned to recognize that God will open my heart to that for which He wants me to pray. I recall an unusual experience I had while traveling across Romania on a passenger train. I was enjoying the unfamiliar country scenery that passed by me at a slow pace. As is typical with most trains, this one afforded an unobstructed view of backyard gardens, laundry hanging to dry on rickety clotheslines, and thick hedgerows leading in and out of the villages. As I gazed at the children playing in fields near small, simple brick homesteads, I felt a significant change in my mood. There is no other way to describe what I was feeling than to say my heart ached with an unknown grief. Tears fell unexpectedly. I later wrote in my journal that I had heard Him whisper, "I love these children and their families. Will you?" It is remarkable how God can intertwine the hearts of strangers willing to pray with people they have only just met.
Unlike a mission trip involving building or repairing a structure, the impact of a prayer-focused intercessory team's visit and prayers may not be immediately seen. Yet we return home prepared to believe that change will come; God will answer.
May R.A. Torrey's words in his final chapter on prayer encourage us:
"But the great need of our day is prayer, more prayer and better prayer. . . . Great revivals always begin first in the hearts of a few men and women whom God arouses by His Spirit to believe in Him as a living God, as a God who answers prayer and upon whose heart He lays a burden from which no rest can be found except in importunate crying unto God. Oh, may He, by His Spirit, lay such a burden upon our hearts today. I believe He will" (p. 191).3
The Northumbria Community, Celtic Daily Prayer. New York: HarperOne, 2002. p 747.
https://www.quotetab.com/oswald-chambers-quotes-about-prayer
Torrey, R.A. The Power of Prayer and the Prayer of Power. Michigan: Zondervan Publishing House, 1971.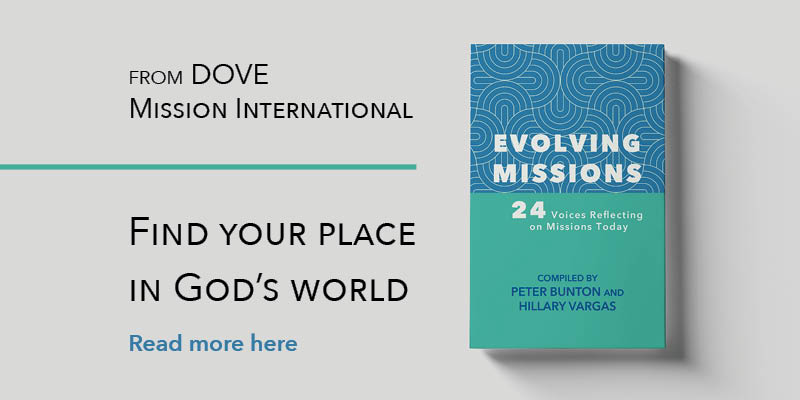 ---
About Lynn Ironside
Lynn's experience in missions has brought her to many new communities within Canada and internationally. She has served on teams in Canada, Bulgaria, Romania, the Netherlands, Kenya, India, Great Britain, and Colombia. She has a heart desire to pray for and minister to women of all ages, sharing of God's love for them and encouraging their sense of creativity and worth. Lynn resides in Ontario, Canada.