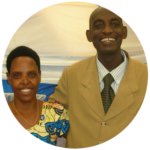 Levis Kagigi & Nyirarwaka Abiya
DOVE Rwanda Apostolic Team Leaders
We thank God for helping us recover from the difficulties of church closures in Rwanda based on a government crackdown in 2018 and the restrictions related to COVID-19. It has been a difficult season but God has seen us through.
Pray for peace in eastern DRC; the fighting there involves many extended family members and is very devastating.
Pray for revival among youth.
Pray younger leaders will rise to positions of responsibility.
DOVE Kanombe
Kawaya Elise & Deborah Nyiragazura
Pray with us:
that the believers will increase in faith and by numbers.
for spiritual awakening.
that the building project for the church in Ntunga to continue without any hindrances and we may acquire all necessary documents needed for construction.
DOVE Kidugudu
Biramahire Leonidas & Mukashayaka Clementine
Pray with us:
that we will be able to make a greater impact in our community and be a catalyst for revival.
for young leaders to be trained and take more responsibility in ministry.
for stability among members.
DOVE Mugambazi
Thomas Nshimiyimana & Dorcus Nyirankundwa
Pray for:
the Gospel to spread all over our region of Rulindo.
the ability to expand the church as believers continue to increase.
provision for us that we may be able to buy more sand that is needed for the completion of our church building construction.
DOVE Ndama
Ethiene Rwumbuguza & Monique Nyiransabimana
Pray that:
the church plant in DOVE Kidungu will be opened and for God to give us the grace to expand the church building.

the many Christians who have fallen and backslidden mainly due to the closing of churche

s during the COVI

D-19 pandemic return to faith.

our children who have completed school or training will be able to get jobs.
DOVE Busanza, DOVE Gitega, DOVE Kanyoni, DOVE Muyumbu, DOVE Ngoma, DOVE Ntunga
Pray that God will make a way to open these churches to become active again.
Sow righteousness for yourselves, reap the fruit of unfailing love, and break up your unplowed ground; for it is time to seek the Lord, until he comes and showers his righteousness on you. Hosea 10:12 NIV