By Merle Shenk
Cheree and I, with our nine-month-old daughter, moved from the USA to Cape Town in 2004 to plant a church. Although we had helped plant churches in other areas of the world, we were unprepared for the steep learning curve we faced in the developing nation of South Africa.
We had difficulty making personal contact with people. Frustrated, I started conversing with the security personnel at the development complex where we lived. One man was having marriage trouble. I prayed with him and shared some impressions that I sensed God showed me. A few days later, the man ran up to tell me that his wife had come back just like I had prayed she would.
"I am waiting for you to start a church so that I can come," he said.
"Are you willing to have us come to your house and start a prayer meeting"? I asked. Our first small group started in a cramped apartment where four families were living in what was one of the roughest areas of inner city Cape Town. There, we experienced God doing amazing things! We saw major answers to prayer. From that first house group, the church was birthed. We moved to a public hall when the apartment could no longer hold us, and from there we launched seven cell groups.
In subsequent years we grew to 120 people, developed a leadership team and elder team, moved buildings, sent out a church planter, started a 4-year degree Bible School called Jeremiah Training Center and then later started short-term REACH Schools of Supernatural Ministry. We transitioned the leadership of the church to a spiritual son when it was clear that God was taking us back to the USA for the next season of our lives. This transition was a two-year process that ended in 2016.
We saw the Lord open amazing ministry opportunities as we were faithful to reach out. He healed people who had been deaf and blind, those who had been in car accidents and others who suffer from pain and sickness.
Learning Experiences
Although we made many mistakes, I will share some of those that turned into helpful learning experiences for us.
As a western missionary in a developing nation, people deferred leadership to us almost automatically. Allowing this was a huge mistake. At one point I was personally leading seven small group meetings a week. It fulfilled my need to feel useful as a missionary, but stifled multiplication and growth. When the responsibility became too much for me, I handed over the leadership of each small group, and not one of them existed six months later! With some exceptions, we have found that small group gatherings must be initiated by those who will lead them long term. We now mentor those who are willing to take this initiative.
We made the mistake of trusting gifted people who had not led small groups. We thought if we treated people like leaders, they would rise to the standard of leadership. For the most part, they didn't. It actually had the adverse affect of concreting character weaknesses instead of encouraging character growth. This caused a lot of pain to us, to them and to others.
Our knee-jerk reaction to mistake number 2 caused us to swing from one side of the pendulum to the other. We made it a requirement for potential leaders to go through two years of ministry training before they could become department heads or elders. Although we deeply believe in the value of theological training, we found that people who committed to this level of training seemed more interested in being good students than good leaders in the local church. Again, their character wasn't being developed; they were gaining head knowledge but not experience. Leading small groups is a good way to verify a potential leader. We have seen God build character in those who are gifted and knowledgeable. We have also seen Him developing the gifts and knowledge of those who don't feel they could ever be leaders. We learned to intentionally train potential leaders and mentor them through the challenges of their own lives, as God built their character, and also have them start and/or lead small groups.
Pouring hours and hours into people who did not pour life into others was an emotional drain, as well as a waste of time and energy. We have learned to invest our energy into people who are sons of peace, described by Jesus in Luke 10:6. Sons of peace are open (willing to talk about spiritual things), hungry (wanting more of God) and sharing (willing to share what God has done). In the REACH School of Supernatural Outreach and Ministry, we taught those principles in depth. In the beginning, I did not always distinguish between people who wanted to tell me their problems and those who were actually hungry for more of God. Many times problems can make people hungry enough to change their ways, but only when they are truly sick and tired of the way things are will they truly follow God's Word.
Another mistake is assuming that teaching biblical knowledge and principles are the same as discipleship. Merely teaching discipleship courses allows people to become inactive Christians. Our discipleship programs shifted to focus on the central theme of obeying Christ's commands. Our small groups emphasized practical goal setting and how to practically and measurably obey God every week. This emphasis has resulted in God doing more ministry through more people than in previous years of us "working hard."
We excitedly look forward to seeing more churches planted through disciple-making movements.
FREE church planting resources here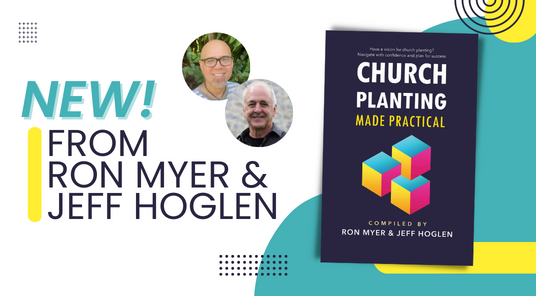 ---
About Merle Shenk
Merle currently serves as the lead elder of Newport Church in Elm, PA. Merle and his family lived in South Africa for over 11 years as missionary pastors with the church they planted. They now lead the DOVE South Africa apostolic team. He is the founding director of HarvestNet School of Supernatural Ministry. Merle, and his wife Cheree, live in Lititz, PA with their family of five beautiful children. Read more about Merle.