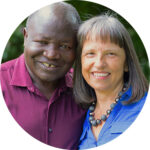 Ibrahim & Diane Omondi
DOVE Africa Apostolic Team Leaders
The Africa Apostolic Council includes Ephraim and Jova Tumusiime and Hesbone and Violet Odindo. Pray this team will have wisdom and divine strategy to oversee church planting.
Pray that:
we would have the courage to try new God-ordained ways of living the Kingdom
leaders in DOVE Africa will see opportunity and seize it
we effectively bring younger leaders into this council and into various areas of ministry in churches
significant steps are taken to establish The DOVE Centre in Nairobi as a 24/7 prayer center.
Africa Fivefold Trans-Local Ministries
These trans-local (traveling) ministers are recognized and commissioned to minister according to Holy Spirit's anointing. They are available for ministry in cell groups or other church ministry.
Philip Mugabi – Prophetic ministry
William Munyanya – Apostolic ministry
James Mwendwa – Teaching ministry
Hesbone Odindo – Apostolic ministry
Diane Omondi – Teaching ministry
Ibrahim Omondi – Apostolic ministry
Ephraim Tumusiime – Apostolic ministry
Charles Wanyama – Apostolic ministry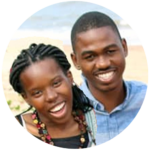 Glory of the Word House International Church
José & Camila Humberto: Maputo
Thank God for spiritual growth and zeal for reaching out to the unsaved people.
Thank God for the discipleship program School of Truth, which is attracting many people and raising those with a passion to win souls.
Pray for faithfulness, strength, and grace to follow and fulfill God's mandate to us for multiplying the Word all over Mozambique through cell groups and radio ministry.
Pray for financial resources to travel to farther places for evangelism.
Pray for a godly and fluid partnership and cooperation among us the main leaders of the church.
DOVE Fellowship Church
Mark & Rachael Gotts: Tanga

God spoke to us to concentrate in our home town of Tanga and He would give growth. We have been amazed to see God at work. A church started in October last year is now overflowing. Around 100 people in the area are meeting regularly in different locations.
Pray for guidance and God's power as we plan to plant more house churches.
Pray for those who are seeking the Lord; some are being discipled and others are in the process of making a decision. Pray especially for a friend of ours who recently came to Christ and is sharing about Christ in his community. Pray that God's Word will continue to spread.
Since holding a Christmas outreach, many doors have opened to see an entire community change. We are starting to work with the government on several projects. Pray for God to lead us and for divine partnerships.
In an expanding ministry with children and young people, we are finding some desperate needs. This year, we are sponsoring six children to attend school and we plan to rent a house for a group of abandoned children. Pray for wisdom, direction, and provision for this need.
Learn more about what God is doing on our DOVE Tanzania website: https://www.dovetz.org/.